George Washington
George Washington, known as the "Father of Our Country," was a farmer, military officer, and the first President of the United States.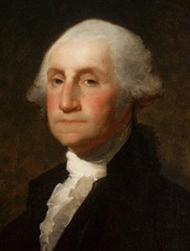 In 1753, at the age of 21 and with no previous military experience, he became a major in the Virginia militia during the French and Indian Wars. Within two years, he was in command of all the Virginia forces. In 1758, he was elected to the Virginia House of Burgesses and left the army in order to serve in the House from 1759-1774.
He also served as vestryman in his Episcopal parish from 1763 to 1782.
In 1775, Washington was appointed military advisor for New York and was charged with defending New York from attack by the British, and within weeks, the Second Continental Congresss appointed him Commander-in-Chief of the entire military. Washington had not sought the position and he refused payment for it. In 1781, he forced the surrender of Cornwallis at Yorktown and won the war.
He was President of the Constitutional Convention of 1787, and served two terms as first President of the United States under the new Constitution. He declined to serve a third term, and retired to Mount Vernon in 1797 where he died of pneumonia two years later.
In his first general order to his own troops, General Washington said he called on:
'Every officer and man...to live, and act, as becomes a Christian Soldier defending the dearest rights and liberties of his country.'
In a letter to all state governors in June, 1783, he wrote:
"I now make it my earnest prayer, that God would have you and the State over which you preside, in his holy protection, that he would incline the hearts of the Citizens to cultivate a spirit of subordination and obedience to Government--to entertain a brotherly affection and love for one another, for their fellow Citizens of the United States at large, and particularly for their Brethren who have served in the Field, and finally, that he would most graciously be pleased to dispose us all, to do Justice, to love Mercy, and to demean ourselves with that Charity, Humility, and Pacific temper of mind which were the Characteristicks of the Divine Author of our blessed Religion, and without an humble imitation of whose example in these things, we can never hope to be a Happy Nation."
In 1787, he warned the Constitutional Convention delegates:
"If to please the people, we offer what we ourselves disapprove, how can we afterward defend our work? Let us raise a standard to which the wise and the honest can repair; the event is in the Hand of God!"
In his famous Inaugural Address to both Houses of Congress, on April 30, 1789, with his hand on a Bible which was opened to Deuteronomy, Chapter 28, he said:
"Such being the impressions under which I have, in obedience to the public summons, repaired to the present station, it would be peculiarly improper to omit, in this first official act, my fervent supplications to that Almighty Being who rules over the universe, who presides in the councils of nations and whose providential aides can supply every human defect; that His benediction may consecrate to the liberties and happiness of the people of the United States a government instituted by themselves for these essential purposes; and may enable every instrument employed in its administration to execute with success, the functions allotted to his charge.

"In tendering this homage to the Great Author of every public and private good, I assure myself that it expresses your sentiments not less than my own; nor those of my fellow citizens at large, less than either.

"No people can be bound to acknowledge and adore the Invisible Hand which conducts the affairs of men more than the people of the United States. Every step by which they have advanced to the character of an independent nation seems to have been distinguished by some token of providential agency.

"And in the important revolution just accomplished, in the system of their United government, the tranquil deliberations and voluntary consent of so many distinct communities, from which the event has resulted, can not be compared with the means by which most governments have been established, without some return of pious gratitude, along with an humble anticipation of the future blessings which the past seem to presage ...

"We ought to be no less persuaded that the propitious smiles of Heaven can never be expected on a nation that disregards the eternal rules of order and right which Heaven itself has ordained; and since the preservation of the sacred fire of liberty and the destiny of the republican model of government are justly considered as deeply, perhaps finally, staked on the experiment."
When he proclaimed a National Day of Thanksgiving, he said:
"Whereas it is the duty of all nations to acknowledge the providence of Almighty God, to obey His will, to be grateful for his benefits, and humbly to implore His protection and favor...

"Now, therefore, I do recommend and assign Thursday, the twenty-sixth day of November next, to be devoted by the people of these Unites States...that we then may all unite unto him our sincere and humble thanks for His kind care and protection of the people of this country previous to their becoming a nation; for the signal and manifold mercies and the favorable interpositions of His providence in the course and conclusion of the late war; for the great degree of tranquility, union, and plenty which we have since enjoyed; for the peaceable and rational manner in which we have been enabled to establish constitutions of government for our safety and happiness, and particularly the national one now lately instituted; for the civil and religious liberty with which we are blessed...

"And also that we may then unite in most humbly offering our prayers and supplications to the great Lord and Ruler of Nations, and beseech Him to pardon our national and other transgressions...to promote the knowledge and practice of the true religion and virtue...

"Given under my hand, at the City of New York, the 3rd of October, A.D. 1789."